The Greater Kailash area of South Delhi is renowned for its local markets and ample of stores located therein. The market is a hotspot among locals and tourists for a quick shopping spree. So, if you're also looking to do something exciting on weekends or just a quick break from your hectic schedule, we advise you to explore the hidden gems of the GK 1 N block market well-known for their authenticity and fun. 
Pro Tip: Keep a weather check before heading to market as Delhi is known these days for its dynamic weather conditions, if the weather cooperates, you can comfortably take a tour through this market. 
Location: https://goo.gl/maps/Znun2UKtctV6vU6T6
The market is open from Wednesday to Monday.
The market is off on Tuesday.
It opens every day at 10:00 in the morning.
Closes at midnight.
Chirag Delhi Metro Station on the Magenta Line is the nearest Metro Station. 
~ADVERTISMENT~
Continue Reading Below
What is the best way to reach Greater Kailash 1 N Block Market?
It is possible to reach the market via several ways by different kinds of transportation, varying from person to person choices. The market is a 10-minute walk from the metro station. However, you can consider taking an auto rickshaw from the metro station towards the Greater Kailash N block market. Here are some quick overviews of transfer services routes available:
The marketplace is approximately 15 kilometres from Indira Gandhi International Airport via NH 48.
Nizamuddin Railway Station is roughly 7 kilometres away through Lala Lajpat Rai Road.
The market is approximately 16 kilometres from the Kashmiri Gate bus terminal through the use of Lala Lajpat Rai Road and NH 44.
Is Greater Kailash 1 N Block Market worth a visit?
The city's youthful visitors went to this market not only to purchase but also to socialise with their peers at the homely cafes. You will also find coffee shops, prepared foods, absolutely gorgeous cotton ethnic wear shops, books stores, and household equipment and furnishings stores. On the top of it, the lively atmosphere here is worth noting. The market is one of the best in Delhi to hang out and enjoy fun activities. But, in comparison to many other marketplaces, this market tends to be on the pricey side.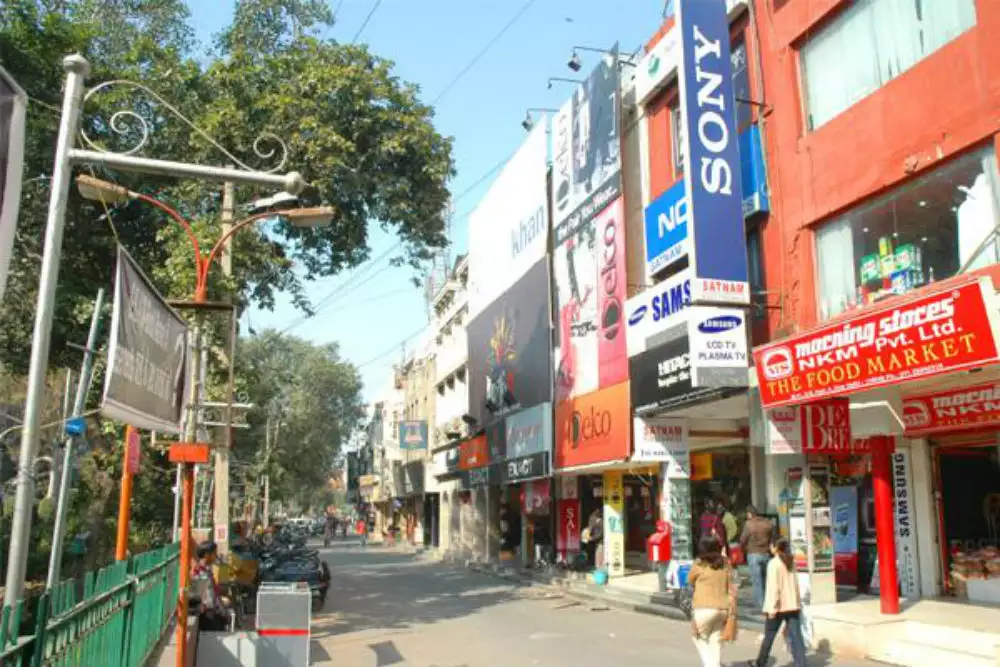 List of the Best Coffee Places in the GK 1 N Block Market
Enjoy slurping quick coffee? Well, the market is known for its availability of different types of coffee, including hot and cold options. Here is our takeaway on some of the best coffee places in the market of Greater Kailash 1.
Costa Coffee
When visitors walk into their beloved Costa café, they can smell the authentic coffee smell which comes to life by making it with love and care. The enticing and pleasant surroundings celebrate the rich heritage and enthusiasm of coffee lovers. You can grab the iconic drink hand carved by the qualified staff. We are sure you'll love it regardless of whether it's the classic Cappuccino, the legendary Plain White, or the exquisite Frostino – or the highest-quality meals praising the excellent cuppa, all add value to a wonderful Costa encounter.
Address: N-2, 1st Floor, GK 1 N Block, New Delhi, Delhi 110048.
Timing: 10 am to 10 pm 
Price Range: Rs. 500-1000 
Starbucks
Coffeehouse chain with headquarters in Seattle recognises because of its trademark roasts, luminous bites, and WiFi accessibility. It is situated near N Block Market and has become a top destination among young folks seeking an enjoyable spot for hanging out together with their peers. The ambience is flawless. The fragrance of fresh coffee beans pervades; the interior is undeniably Indian, thanks to the trademark wall decoration (crystal structures) architecture.
Address: 2, N Block, Greater Kailash I, Greater Kailash, New Delhi, Delhi 110048.
~ADVERTISMENT~
Continue Reading Below
Timing: 9 am to 10 pm 
Price Range: Rs. 900-1000
Greenr Cafe
Greenr is a vegetation-structure coffee shop and cafe with elegant takes on popular dishes and incredible cups of coffee. The cuisine is vegan and strictly vegetarian-friendly, presenting a collection of unprocessed, world-class-inspired meals and beverages. Some cappuccino coffees should be tried as they possess a brilliant aroma. In the winter, many people show up, particularly for their special flavours in warm espressos.
Address: N -11 First Floor, Market, N Block, Greater Kailash I, New Delhi, Delhi 110047
Timing: 12.30 pm to 10 pm 
Price Range:  Rs. 1,400-1500
Best Cotton Dresses Stores in GK 1 N Block Market
Several Indian retail fashion brands, including Kilol, Anokhi and FabIndia, do a booming business in the GK 1 N Block market. They are undoubtedly among the Leading Indian supermarkets for soft fabric clothes, cardigans, and ethnic wear.
Kilol Delhi is renowned for its conventional creations in hand-block prints. Everything was established in 1986 by Mamta Mansingka, who explored hand-woven border lines of Maheshwari silk sarees and elaborately decorated those with Jaipur hand-block prints.  The boutique launched in Madhya Pradesh and is now a national company.  As well as saris and suit pieces, the store sells kurtis and stoles made of cotton, terry voile, and silk – Tussar, Chanderi, and Maheshwari.
Address: 4 and 6 shop number, N block Market, Greater Kailash 1, New Delhi-110048
~ADVERTISMENT~
Continue Reading Below
Timing: 10.30 am to 7.30 pm
Price Range: Rs. 3,000 
Some small stores and online businesses also carry Anokhi products throughout India. In our spacious, verdant office on the outskirts of Jaipur, all the collections are designed in our design studio. Over fifty years of creativity and collaboration with the craft industry are represented in the ANOKHI archive of swatches, paper patterns, toiles, and samples.
Address: Ground & 1st Floor Building No.16 N-Market Part I N Block, Greater Kailash I, Greater Kailash, New Delhi, Delhi 110048
Timing: 10 am to 8 pm
Price Range: Rs. 500- 1000
With FabIndia, you can discover a wide variety of clothing and home furnishings, as well as natural beauty products. It has a reputation for its one-of-a-kind design features, strong clothing, and conventional artistry. FabIndia is committed to advancing traditional Indian handwork and offering consumers premium goods at fair rates. It's a one-stop store for every one of your design requirements.
Address: Shop Number 5 and 7, N Block Market, Greater Kailash Part 1, New Delhi- 110048.
Timing: 10 am to 8 pm
~ADVERTISMENT~
Continue Reading Below
Price Range: Rs. 500-1500
Alluring Home Decor Stores of GK 1 N Block Market
The unique home and apparel stores, as well as gorgeous eateries and pubs in GK's N Block Market, are what make the market so popular. Whether you want to decorate the entire house or find the perfect cushions for your living room sofas, you will find everything here.
Kassmi is comparatively tiny, packed with people shopping just underneath Kasbah which is frequently overwhelmed by the supermarkets. However, if you're searching for some conventional houseware, this is perhaps the place to be! 
Address: N.2, G.K.1, New Delhi, Delhi 110048
Timing: 10.30 am to 8 pm (Close on Tuesdays).
Price Range: Rs. 1000-2000
Artisan Lab- Luxury Home Decor & Lifestyle
Style experts provide effortless assistance with translating your style into your home. With their impeccable design sensibilities, they will offer your room a touch of sophistication and help you achieve your interior design goals.
Address: Market No 1, N-18, Greater Kailash, New Delhi, Delhi 110048
Timing: 7.30 am to 7.30 pm
~ADVERTISMENT~
Continue Reading Below
Price Range: Rs. 1200-1500
Sage Koncpt – Serve in Style
An innovative brand focusing on premium home accessories, Sage Koncpt. A manufacturer of hand-crafted cutlery and home decor items, they make products from natural materials. You will find conscientiously-crafted beautiful and well-designed products.
Address: N block, Ns-1, Market, Greater Kailash I, Delhi 110048
Timing: 11 am to 8 pm
Price Range: Rs. 3,000-5,000
Takeaway!
The well-known GK 1 N block market is one of the best markets in Delhi for clothing, home decor, footwear, cafes, and other items. So, the place is about creating memorable moments with your loved ones. Make some time for yourself and go to the market; you will fall in love with it.