Why look for any other market when you have the best shopping market in Kamla Nagar? This market has everything you want, including food, entertainment better stock of clothes, shoes, and accessories than other delhi markets, that too at affordable rates. (Did we forget to mention that IT IS (RELATIVELY) LESS CROWDED than other Delhi Markets).
Are you still not satisfied? Continue reading to know more about Kamla Nagar Market in Delhi.
Why shop at Kamla Nagar Market?
Latest and Better Stock than other Delhi Markets
Kamla Nagar is a better option because the stock is simply better! Seen Komal Pandey, Dolly, or your favorite influencer wearing an eye-catching top or footwear, then there is a 100% chance that you will find the same or maybe something with a little difference in the Kamla Nagar market at a pocket-friendly price.
Organized
The street vendors at Kamla Nagar market have an organized setup for the display of the clothes or footwear. Most of the shops have proper racks for displaying footwear and bags. They also have their clothes properly displayed on hangers which makes it easier for you to browse through their vast collection.
Amazing Footwear collection
Kamla Nagar should be your first stop for shoe shopping! After all, it has a fantastic selection of sneakers, sandals, and flats for both men and women. Stelatoes, Delco Shoes, and Calcetto are great places to find low-cost shoes for any occasion!
A lot of Eating Places
After a long tiring day of shopping, you will probably need energy. Kamla Nagar market has some amazing cafes and eating shacks like  Bhukkad Cafe, The Hide Out Cafe and Lounge, Bunk out Cafe and Tom Uncle Maggie Point, etc. Don't miss the famous and delicious Dolma Aunty momos! (We loved the Tandoori Paneer Momos)
Really Cute Phones Covers
Looking for funky phone covers or maybe one with a cute teddy bear on it? This market has the best collection of Phone Covers. They have some fantastic options for you starting at just Rs. 100!
Korean Stores with Really cute items
There are many Korean retail outlets in Kamla Nagar Market like Ximi Vogue and BECCOS. You will fall in love with their amazing collection of adorable tiny electric fans, sheet masks, make-up brushes, adorable bags, keychains, and other exciting items.
Read Also:
~ADVERTISMENT~
Continue Reading Below
Other Information
Address: Block F, kamla nagar, Delhi, 110007
Timings: 11 am to 8 pm
Closed on: Monday
Nearest Metro Station: Vishwavidhayala on the Yellow line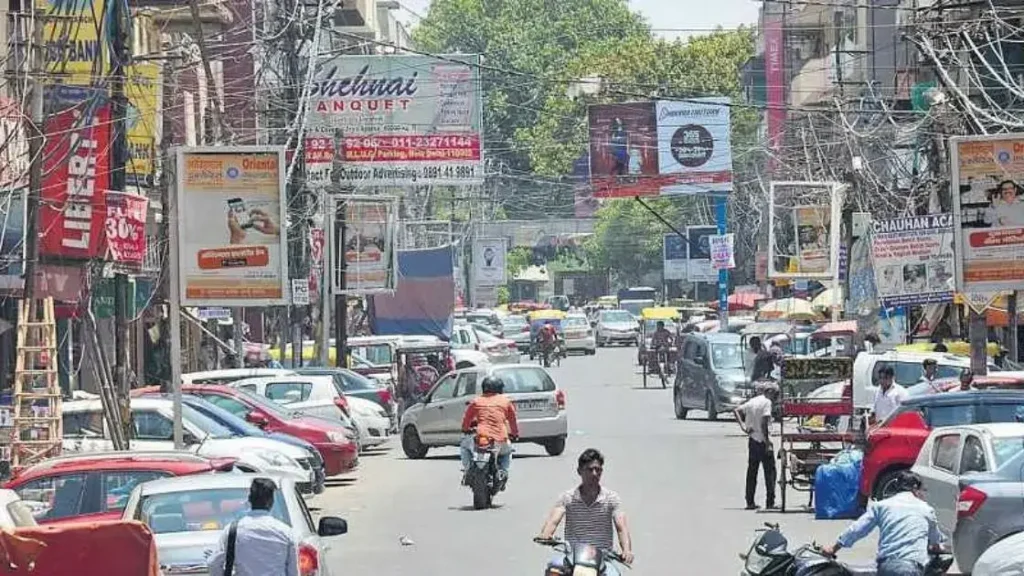 Shopping in Kamla Nagar Market
Shop till you drop at these amazing stores in Kamla Nagar Market in delhi
Prakash Ceramicware
For over two decades, Prakash ceramicware has been selling some incredible and fine ceramic pieces. This store has a variety of delicate fine pieces with gorgeous unique details, ranging from napkin holders, rice pots, and mugs to teacup sets, handis, and agarbatti stands, all at super low prices.
Lulla Buy
Are you searching for fashionable and comfortable clothes,? Then Lulla Buy should be your one-stop destination. They have a wide collection of clothes ranging from casual wear and onesies to formal shirts and dresses with a variety of designs, styles, patterns, and colors in apparel and accessories that are combined with comfort and value for your money. Their nightgown collection (think dinosaur and space prints) is really cute!
Timings: 11:30 am to 8 pm
Tani Varni
Located on the bada gol chakkar, Tani Varni sells everything ethnic, from casual kurtas to formal wear and embroidered suit sets. Their collection includes plain and printed cotton and linens, as well as machine-embroidered pieces. Their products are of high quality and reasonably priced. We bet you will fall in love with the collection.
~ADVERTISMENT~
Continue Reading Below
Timings: 10:30 am to 9 pm
Junk Jewellery
You will not be able to resist buying accessories from Deepak & Rahul Jewellery Shop. They have everything you need whether it's intricate, fashionable, classy, ancient look, chic, ethnic, or rustic banjara. You can also look for a seller in front of Ed Hard who only sells chunky chains and the mantra is big, bold, and chunky.
Apart from these, there are many other sellers who sell scarves, earrings, rings, bracelets, anklets, and belts. Bargain and grab the best deal!
Shoes
There are many shoe stores in Kamla Nagar Market. From comfortable everyday wear shoes to fancy weekend footwear you will find everything at Stelatoes. A good pair of flats will cost you between Rs. 500 and Rs. 800, and stilettos will cost you around Rs. 1000 ( that's pretty decent right?). Hyza is a men's shoe store that has a vast collection of shoes which includes FILA, and Adidas Originals. The shoes on display are all customizable. 
Fusion Wears
Love wearing Fusion wear clothes? Then Misi and Fashion Garage in Kamla Nagar should be your go-to place. Misi is a hole-in-the-wall fusion wear heaven. Don't judge them by their mannequin clothes. What you find on the racks is far more fashionable. Another one is the Fashion Garage store which is a blend of pop-culture. They have everything from Star Wars t-shirts to Pink Floyd tour merchandise and some funky fridge magnets. Need some cool denim? They have it at very affordable prices.
G-9 Teen
Going on vacation but confused about where to buy some really cool vacation vibes clothes? G-9teen is the place! The beer-printed shirts, the whisky shots shorts, and the cool and comfortable t-shirts will definitely confuse you which one to buy and which one to leave. All the Men, the next time you're looking to add some funk to your wardrobe, don't miss out on this store!
Bags
You will get the best bags at Bag Point, which is one of Kamla Nagar's oldest shops. It is just across Chacha ke Chhole Bhature ( make sure you eat Chole Bhature either before or after shopping). You will fall in love with their bags collection which is not only fashionable but also top-notch quality. Cross-body bags, backpacks, totes, purses, and much more are available in plain, pastel, and printed styles! Their bags range in price from Rs. 500 to Rs. 1500. 
What to eat in Kamla Nagar Market?
Dolma Aunty Momo
Love eating momos? Head towards Dolma Aunty momo and enjoy their mouthwatering varieties of momo which includes veg momo, tandoori paneer momo, tandoori chicken momo, spring rolls, and pizza rolls. Dolma 
Address: near, Shop No.3 UB, Bungalow Rd, Kamla Nagar, Delhi, 110007
~ADVERTISMENT~
Continue Reading Below
Timings: 3 pm to 9 pm
Price: For 2 is Rs 150.
Chache Di Hatti
After a long day in the Delhi heat, a filling chole bhature and a cold lassi are like a cherry on top of the cake. Chache di Hatti serves chor-chor naan, chole Bhature, sakargandi chaat, chai, lassi, aloo Bhature, and chole kulcha. 
Address: D-33, Block G, Kamla Nagar, Delhi, 110007
Timings:  9:30 pm to 3 pm
Price: For 2 is Rs 150.
Sharma Kachori Wale
A variety of dishes are served at Sharma kachori vale, including aloo with kachori, gazar ka halwa, tea, paneer pakora, papad (tandoori and masala), aloo chaat, and paneer masala. The kachoris served are extremely thin and light, and they come with a hot aloo sabzi which is mildly spicy and tastes simply delicious and divine. It almost tastes like the food you'd get in a langar.
Address: Shop No. 38/A, Satyawati Marg, Block A, Kamla Nagar, near Shakti Nagar, RedLight, Delhi 110007
Timings:  7 am to 10 pm
~ADVERTISMENT~
Continue Reading Below
Price: For 2 is Rs 60.
Vaishno Chaat Bhandar
Vaishno Chat Bhandar is one of the oldest chat places in Kamla Nagar Market. Papri Chaat, Golgappa, Gol Gappa, Pao Bhaji, Kulfi, and Paneer Tikka are some of the dishes served here. How can we forget the delicious Tandoori dishes such as Paneer tikka, mushroom tikka, malai chap tikka, and stuffed aloo tikka which is also available at Vaishno Chat Bhandar. It is also well-known for its low cost and high quality. 
Address:93-E, Kolhapur Road, Kamla Nagar, Delhi, 110007
Timings:  12:30 pm to 11 pm
Price: For 2 is Rs 250.
Read Also: Top 11 Delhi Street Food That You Must Try
FAQ's
Is the Kamla Nagar market costly?
No, the market is not costly. You will find daily wear clothes here at very affordable prices. ( starts only at Rs 100)
What is the nearest metro station to Kamla Nagar Market?
Vishwavidhayala on the Yellow line is the nearest metro station to Kamla Nagar Market. Once you get out of the metro station either take a rickshaw (15 minutes ride) or walk (5 minutes walk) towards the market.
What is the specialty of Kamla Nagar Market?
The latest clothing collection including fusion wears, children's clothing, vacation vibes clothes, accessories including ethnic earrings, stylish belts, unique scarves, etc and not to forget trendy stores like the ones mentioned above are the specialty of Kamla Nagar Market.
Can we get our ears pierced in Kamla Nahar Market?
Yes, there are many shops if you are planning to get your ears pierced. However, our tried and tested is the store named Silverfied. The earrings are 92.5 silver and hypoallergic. (the piercing is painless!) You can also get your belly and tongue piercing done there.
Is there a Parking space in Kamla Nagar Market?
Yes, there is ample parking space at various blocks of Kamla Nagar.
Do you love shopping and keeping your wardrobe updated? You must visit Kamla Nagar Market and explore the variety of low-cost shopping items. The stores are brimming with clothes (not only simple ones but also fusion wear), accessories, footwear, cosmetics, bags, and a variety of other items. 
Have a great shopping experience!