About Nai Sarak Book Market
You must have heard about Nai Sarak Book Market! But if you don't then you should read this and we can bet you will want to visit this market. The market is named after a street called Nai Sarak, which means "new street" in Hindi. But do you know why this name? The street is so named because it is a relatively new and wide road built by the British after the War of 1857. 
Nai Sarak market is famous and India's biggest textbook market located in Old Delhi, India. It is known for its wholesale and retail market for books, second-hand books, stationery, and other educational materials. The market is located near the Delhi University campus, which makes it a popular destination for students. It is a bustling crowded place, with narrow lanes and a large number of shops selling a wide variety of products. The market is open seven days a week and is busiest on weekdays.
Despite its modern reputation, Nai Sarak has a long and colorful history that is closely tied to the history of Delhi itself. It is an important cultural and economic hub in the city and continues to be a popular destination for locals and tourists alike. From a suspenseful thriller, a sci-fi novel, an enlightening biography, a competitive exam book, or an academic book surpass, Nia Sarak Market has it all. You can easily find any journals, magazines, novel comics, and academic books.
However, you must be skilled at bargaining because the more you bargain, the cheaper the book. In addition to books and stationery, Nai Sarak market also sells other items such as school and office supplies, gift items, and religious artifacts. This market is a great place to find unique and hard-to-find items, as well as to bargain for lower prices.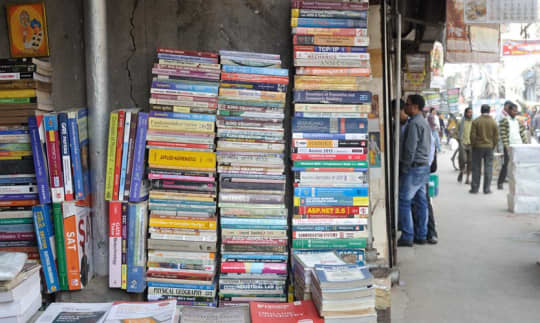 History Time!
Let's dig into a little history of the market. 
The market is believed to have originated during the Mughal era in the 17th century when the city of Delhi was the capital of the Mughal Empire. At that time, Nai Sarak was a busy thoroughfare that connected the Red Fort to Fatehpuri Masjid, and was lined with shops selling a variety of goods. The whole market is lined with double-story buildings, most of which date from the early twentieth century. The lower floors of these buildings house shops that specialize in specific types of books, such as children's books, medical textbooks, and books in different languages. 
Address: 1680, Nai Sarak, Roshanpura, Chandni Chowk, New Delhi, Delhi 110006
Timings: Open 7 days a week from 11 am to 8 pm
How to Reach Nai Sarak Book Market?
If you are planning to travel by metro then get down at Chandni Chowk Metro station or Chawri Bazar Metro station, the market is just 5 minute's walk away from the metro station. Avoid visiting this market by car as entry by car is not allowed inside Chandni Chowk.  If you are traveling by cab, the cab will drop you near the red fort, from there you need to take a rickshaw or e-rickshaw to the market.
~ADVERTISMENT~
Continue Reading Below
If you still can't find it, as always, you can ask someone out there or hire a cycle rickshaw to take you!
Tip
If you are planning to visit Nai Sarak market, it is a good idea to dress comfortably and wear shoes that are easy to walk in, as the market can be quite crowded and busy. It is also advisable to be cautious and aware of your surroundings, as pickpocketing and other petty crimes can occur in busy marketplaces.
How to Reach Nai Sarak Market?
There are 6 ways through which you can reach Nai Sarak Market:
– If traveling by metro then the nearest metro station is Chandni Chowk Metro station, The market is just 5 minute's walk from the metro station.
– If you are coming from Jama Masid, the market is 9 minute walk away.
– From Old Delhi Railway Station the market is 8 minutes walk away.
– From Red Fort, you will have to walk for 15 minutes to reach the market.
Any advice for visiting the Delhi book markets?
If you want to buy a book from Delhi Book Market, never pay the price quoted by the vendor; ALWAYS BARGAIN! The rule is to quote half the price that the vendor has quoted! Also, visit the market just when it opens as there are very high chances that you will get the book at the price quoted by you.
Are second-hand books available at Nai Sarak Market?
Yes, second-hand books are available at many shops in the market.
What are the benefits of  secondhand books?
Second-hand books are often much cheaper than brand-new books, making them a more affordable option for those on a budget, reducing waste and helping to conserve natural resources as it reduces the demand for new books to be produced.
Conclusion
Nai Sarak is a narrow-lane market located in Chandni Chowk. It is known for its wholesale and retail shops selling various products, including books, stationery, and other educational materials. The market is located in the Chandni Chowk area of Old Delhi and is considered to be one of the busiest markets in the city. It is a popular destination for locals and tourists and is known for its lively atmosphere and the wide range of goods available for purchase. 
A quick question for all of you: What was the official name of Nai Sarak Market?
Let us know in the comment section. We are waiting!