Your trip to Delhi will be incomplete if you don't visit Sarojini Nagar Market. Name the style, design and brand, you will find it all! There is a different craze and excitement for Sarojini Nagar Market.  The long lines of consumers with overflowing bags on both the hand and not to forget the unique Sarojini Nagar bhaiya sellers who are ready with tactics to lure the customers by their power of slogans, and ready to pounce if you show even a slight bit of interest.  You don't need to worry about the traffic of cars as it is a pedestrian only zone! Read on to know more about Sarojini Nagar market. 
History Of Sarojini Nagar Market
Sarojini nagar market is known for selling affordable and latest fashion clothes but do you know before this it used to be a local market. Yes! It was founded in the 1950s as a local market to meet the everyday needs of residents of the Sarojini Nagar Government Colony, including Indian Central Government and state government employees who were allocated a DDA Flat in this colony. The original name of this colony and the market was 'Vinay Nagar'. But in late 1960s, it was renamed Sarojini Nagar in honour of Sarojini Naidu, the first woman to be elected President of India.
Read Also: A to Z of Lajpat Nagar Market & Central Market
Sarojini Nagar Market Timings
You must be wondering what Sarojini Nagar Market timings are and is it open on weekends also! Sarojini nagar market opens at 10 am and closes around 8/9 pm from Tuesday to Sunday. It is closed on Mondays.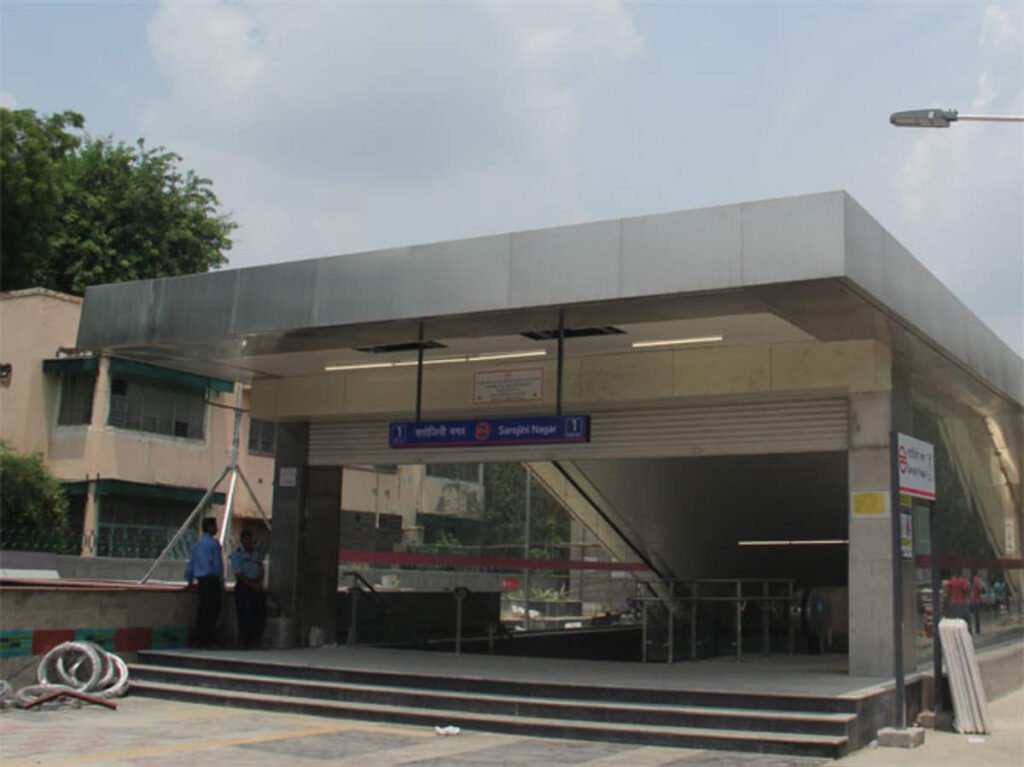 How To Reach?
You must be thinking now where is sarojini nagar market and how to reach there? Don't worry, we have got it covered. 
S.N is located in South Delhi and is surrounded by posh Delhi colonies. You can easily reach Sarojini Nagar either by road or by metro. There are two options for those who wish to travel by metro. The first is, if you are travelling via the yellow line, after reaching INA metro station change to pink line and then get down at Sarojini Nagar Market metro station which is the Sarojini Nagar Market nearest metro station, or otherwise you can also get down at INA metro station and take an auto or sharing e-rickshaw for the market. The auto will take around Rs 30 and e-rickshaw will charge you Rs 10.
If you are travelling by your own car or bike don't worry there is ample paid parking space!
What To Buy From Sarojini Nagar Market?
Even if you have made up your mind of what you need to buy before going to the sarojini but once you reach the market, you will definitely get confused. The shops on both the sides of the market pathways showcasing a wide and very affordable range of clothes and accessories hanging will make you fall in love with the market. The list of items available in Sarojini Nagar market is endless. But we have mentioned below the major items that can be bought from Sarojini Nagar Market.
Footwears
Have you heard the saying "So many shoes but only two feet"? This saying fits here! Believe us Sarojini Nagar Market will not let you down when it comes to their Footwear collection. From flats starting at Rs. 100 to sneakers starting at Rs.200 you will fall in love with each and every collection. Don't worry about the quality, it is satisfactory enough for you to wear them at least a dozen times. 
~ADVERTISMENT~
Continue Reading Below
Apparels
One stop shopping market for all your shopping needs! Crop tops, Boot cut jeans, sequence dresses, Jackets, shrugs, denims, coats, scarfs, dresses and even swimming costumes are there. You name it, they've got it all. Brands like H&M, Marks & Spencer, Primark, Stalk Buy Love, Forever New, Zara, Biba, Westside, and many other clothes can be easily found there and that too starting from Rs 50! 
Bags
Sling bags, handbags, laptop bags, wallets, traveller bags and all other Bags of almost all shapes, sizes, colours can be easily found in Sarojini. All you need to do is have a keen eye for the product. You can find the best leather and suede bags in Sarojini Market shop named "Old Tree" at reasonable prices.
Accessories
Do you love collecting accessories? If yes then Sarojini is the place for you! Scarves, rings, belts, Phone covers, stickers, sunglasses, hair bands, bandanas, bangles, and anything else you can think of can be found at Sarojini Nagar Market. The range of the accessories start from Rs 10 and can go up till Rs 250-300.
Home Décor and Crockery
Thinking of renovating your house by adding some home décor items or want to give a gift to someone? Without giving s second thought visit Sarojini. You will love the wide range of collections and will want to buy all of them! The collection of unique Vases, lamps, key chain holders, cushions, bedsheets, rugs, carpets, makeup boxes, and other home decor items will not burn a hole in your pocket.
Not only home décor you can also find crockery items. This market has everything you need for your kitchen, from ceramic plates to glasses, printed plates, dining sets, and cups/ mugs. 
What To Eat At Sarojini Nagar?
Once you are done shopping, it's time to regain some energy! You can go and eat at DLF South square mall which is just 5 minutes' walk from the market. But there is something different about street food! You can try Shyam Chaat Stall which is famous of chaat and golgappas, kwic bite for south Indian and Chinese food, Hot pot for their chilli potato, rolls and burgers, Khatta Meetha for their kulfi, aloo Tikki and pao bhaji.
Tips And Tricks For Shopping At Sarojini Nagar Market
Shopping in Sarojini Market is not easy. Here are some tips and tricks that can help you in making your shopping experience fun.
Carry a tote bag with you so that you can avoid the small poly bags.
Most of the shops doesn't have online mode of payment so it is advised to carry cash with you
Avoid wearing heels or shoes which are uncomfortable.
If you are visiting in summer, wear comfortable clothes and carry a water bottle with you.
Always check the size of the clothes before buying. You can also carry an inch tape with you!
Use your bargaining skills. Always start bargaining from one third the amount.
Try to visit the market at the time when it opens, you will not only find less crowd but the shopkeepers will also give you a good discount.
Be a little alert of the pickpockets while you are shopping.
Conclusion
If you live in Delhi or are visiting Delhi, you must visit Sarojini Nagar Market. Sarojini Nagar Market is a place for everything and anything. Trust us when we say Sarojini has EVERYTHING! With the limitless options and the affordable price range you can easily upgrade your wardrobe. It's time to show off your bargaining skills!